About
About Horizon
The Horizon Environmental group was founded by Managing Director Ben Ives in 2011 to deliver comprehensive asbestos removal and land remediation services to the construction and public sector across the UK. We have expanded our service since then to deliver international asbestos removal services to British government sites overseas, and have worked across Europe, Africa, Asia and the Middle East.
We are known by our clients for being meticulous and diligent and for delivering a consistent, quality service on time and on budget. Read more about how we deliver our services.
With a thorough understanding of the risks in our business, we apply the highest standards to compliance and particular health & safety. Find out more about our accreditations.

What our clients have to say
"From when we first met Horizon they came across as professional, their pricing was reasonable and their proposal clear. The company is very responsive to requests, including last minute jobs for asbestos removal on a live hospital. They are thorough in their work and their health & safety is second to none."
Project Manager, Galliford Try

"Oxleas NHS Foundation Trust have worked with Horizon for over five years. They have been an important part of the redevelopment of Queen Mary's Hospital. Horizon's service has been market tested on numerous occasions and they have proven to be good value for money. They undertake a lot of the work out of hours and we very rarely walk into any problems. They are responsive, their site operatives are courteous and helpful and we trust them to manage the work on our behalf."
Project Manager, Estates & Facilities Directorate, Oxleas NHS Foundation Trust
"We have worked with Horizon for a number of years on a variety of projects. They have a proven track record in asbestos removal and land remediation and have a positive attitude to commercial matters. They operate to our own high standards of health and safety and are able to demonstrate full compliance with statutory legislation and waste regulations. The Horizon management team understands the risks involved in the work they are doing - the importance of getting it right and of meticulous record keeping."
Regional Director, O'Keefe
What our team have to say
"Horizon Environmental is very serious about the health & safety of our workforce and that of our clients. We invest extensively in our employees to give them a wide range of training and understanding to carry out their job roles safely and knowledgably."
Ben Ives, Managing Director
"We are conscientious and diligent. Our clients really value this and this is evident in our close relationships, repeat work and referrals".
Tony Baker, Operations Manager
Horizon Environmental is part of a wider association of companies, read more about our partners.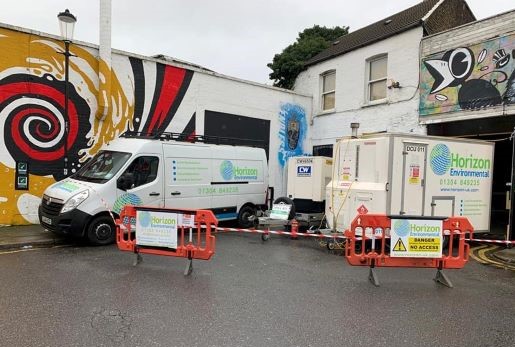 Find out how Horizon Environmental can help your business
Get in contact today
Contact Us