Horizon recognised for 'Performance Beyond Compliance'
Horizon recognised for 'Performance Beyond Compliance'
Horizon has been recognised by Considerate Constructors for 'Performance Beyond Compliance' in our latest assessment from the construction industry standards scheme.
Under the scheme, Horizon is regularly assessed against five core principles:
Care about Appearance
Respect the Community
Protect the Environment
Secure everyone's Safety
Value their Workforce
Companies which score 7 or above, out of a maximum of 9 points, in each category are awarded a Certificate of Performance Beyond Compliance recognising that their performance has exceeded compliance.
Understanding the risks in our business, we are particularly focused on health and safety and received our highest score in 'Secure everyone's Safety' with 8-9 out of 9.
Ben Ives, Managing Director, Horizon Environmental: "We strive to meet the highest standards in compliance so we were very proud to receive this recognition earlier this week. It shows our commitment to constantly improving standards within the business"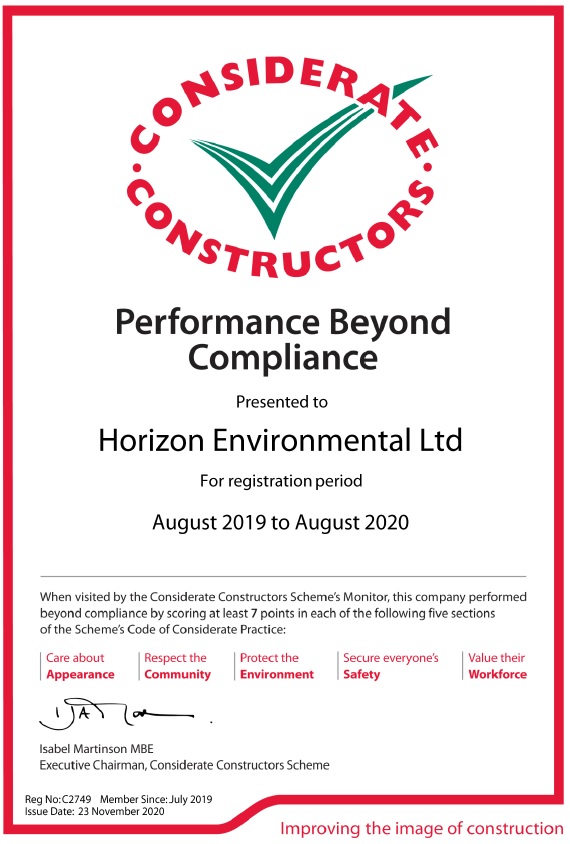 Earlier this year, Horizon was awarded 4 out of 5 stars by the Considerate Contractors Scheme following our first assessment.
You can find out about all our certifications, memberships and awards on our accreditations page.
Find out more about how we can help you with our nationwide asbestos removal services.

Get in touch
Find out how Horizon Environmental can help your business
Contact Us