Donated PPE and RPE helping to protect NHS workers
Donated PPE and RPE helping to protect NHS workers
Horizon has contributed 1,900 items of RPE and PPE to protect NHS workers during the COVID-19 crisis.
Like many businesses across the UK, our thoughts have been with key workers during these difficult times. As an HSE licensed asbestos removal contractor, Horizon Environmental uses extensive personal protective clothing (PPE) and respiratory protective equipment (RPE). We didn't hesitate to do our bit and contributed 1,900 type 5/6 coveralls which repel liquid and 50 reusable half-face masks. The equipment was delivered to NHS Trusts that have been struggling to source protective clothing and equipment for their teams since the coronavirus outbreak including the local Medway Maritime Hospital in Gillingham, Kent.
A representative from Medway NHS Foundation Trust said: "Thank you so much for your kind donation of PPE for the staff at Intensive Care at Medway Hospital. We are so grateful for your kindness."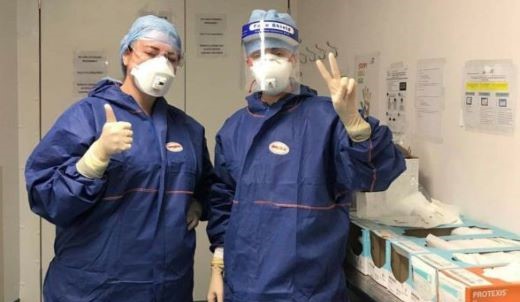 Ben Ives, Managing Director, Horizon Environmental says: "We were very pleased to be able to provide equipment to help protect NHS workers when PPE and RPE was in short supply. Like everyone, we owe huge thanks to our brave NHS staff and other key workers across the UK.".
The widespread outbreak of COVID-19 has seen many public and private buildings contaminated with the virus which can spread not only by contact with droplets transmitted by an infected person but by contact with a surface or object that has the virus on it. Horizon Environmental offers a specialist environmental cleaning service to decontaminate buildings from the coronavirus helping to protect the workforce and the public during the outbreak.

Get in touch
Find out how Horizon Environmental can help your business
Contact Us